Hong Kong has a passion for Hong Kong Chinese food that eclipses their love for politics, shopping, gambling, and even gasp, stocks.
The city is home to some of the most food-obsessed people in the world and produces an extraordinary array of food items ranging from stubbornly traditional foods to unselfconscious fusion foods, each more drool-worthy than the next.
Today, we'll discuss the most delicious Hong Kong Chinese food items and some famous restaurants of Hong Kong.
About Hong Kong Chinese Food:
Well, Hong Kong style typically refers to those "Cha Chaan Tien" in Hong Kong. a mix of Cantonese and western style cooking. Those are more unique to Hong Kong which one may not find in Guangzhou.
Cantonese food refers to food from the Canton area of southern China which includes Guangzhou and Hong Kong. This cuisine is so different from the meals enjoyed throughout the rest of China for several important reasons.
In Hong Kong and Macau, Traditional Chinese has been the legal written form since colonial times. However, in recent years, simplified Chinese characters are also used to accommodate mainland Chinese tourists and immigrants.
10 Delicious Hong Kong Chinese Food Items:
1. Fishballs: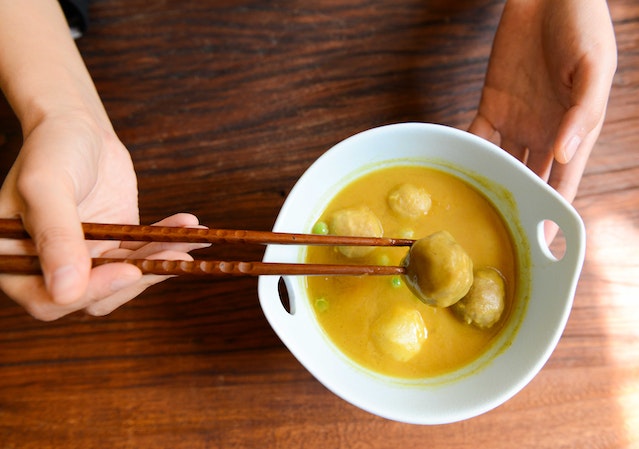 Fishball is the greatest Hong Kong Chinese food. Millions of these compressed fish-meat snacks are consumed daily by Hong Kong residents. Almost every 7-Eleven in the city has a stall stewing fishball skewers, making them just as accessible and common as another traditional Hong Kong snack: Siu Mai dumplings.
Everyone has a favorite fishball restaurant, and Tung Tat is ours thanks to its hardness and robust curry taste.
2. Stinky tofu:
You have probably heard or read about the smell coming from one of the most bizarre dishes to come out of this region of the planet. However, nothing can truly get you ready for the stench. Like durian, stinky tofu is one of Asia's most recognizable "strange foods."
The tofu's fermentation caused the odor, which is so powerful you won't be able to get rid of it for several months. However, Hong Kongers truly adore that foul. Well, the majority of Hong Kong residents.
3. Pineapple Bun:
It has a firm exterior, a soft interior, and a pastry topping that is crispy and sweet. It is widely available in Hong Kong and is so well-liked that it has been exported to other countries; just walk into a Chinese bakery in Toronto, Taipei, or Tianjin, and you're certain to find one.
It goes perfectly with milk tea, especially if you get the boh Loh Yaau variety that includes butter.
4. Cha Siu Baau:
Barbecued pork stuffed into a bun deserves its very own shout-out here. Because, when we break open a soft white steamed bun and see the glistening mauve filling of diced cha siu with extra barbecue sauce spilling out and sniff the heady perfume of wine, soy, and hints of caramel. Therefore, North Garden calls theirs "cha siu mantou", giving the traditional bun a northern Chinese twist.
5. Miniature Wife Cakes:
Even while we adore traditional Chinese pastries, their dense blend of fat and sweet pastes prepared from a variety of beans and roots aren't exactly conducive to easy nibbling.
Fortunately, Hang Heung has a workaround for that issue in the form of miniature wife cakes. With a firm, chewy filling consisting of almond paste and winter melon, wife cakes feature a flaky exterior made of pork lard.
They are very pleasant due to the pastry and the gentle sweetness of the winter melon, and they are also easily digestible due to their bite size.
6. Hong Kong Style French Toast: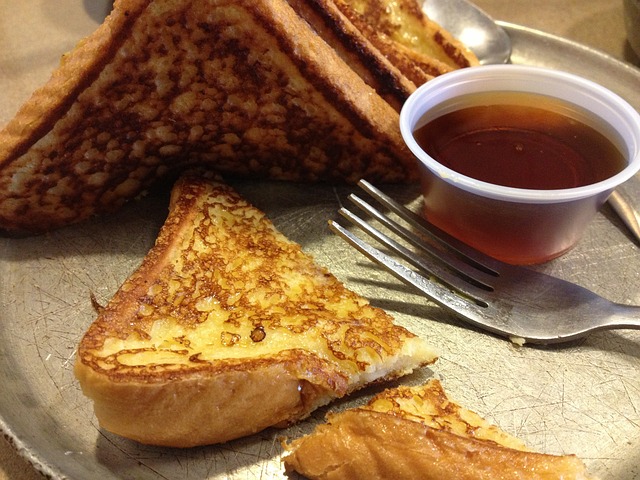 Hong Kong-style French toast, in contrast to its more restrained Sunday brunch version, is for when you're worried and in need of a warm, deep-fried hug.
It consists of two pieces of toast that have been spread with peanut butter or kaya jam, dipped in egg batter, cooked in butter, and served with additional butter and copious amounts of syrup. Although eating too much of it may make you die young, the simple flavors and textures of sweet and salty, soft and crunchy, make it the ideal comfort meal.
7. Sweet tofu soup:
One of those seemingly straightforward Hong Kong meals with significantly greater potential for satisfaction than its constituent parts is sweet tofu soup. One of the best places to sample it is Kin Hing, an old couple's sole "dau fu faa"-serving lean-to stall in the Lamma Island countryside.
It is soft and silky, covered in a subtly sweet syrup, and dusted with yellow sugar. The tofu's musty soy flavor is complemented by the sugar's strong sweetness.
8. Chicken Heart:
Chicken feet prepared in the Cantonese style are the ideal synthesis of thrift and culinary skill. Chicken feet are frequently deep-fried in China before being simmered in a black bean sauce. It takes a lot of practice to spit out the tiny bones in the exquisite manner mastered by grandmas in dim sum restaurants all across town because the cartilage softens to a consistency that melts in the mouth.
9. Indonesian Satay:
When the fatty, tender satay skewers from The Shatin Inn are presented to your table on a little charcoal grill, they sizzle in a really delicious way. But what makes them particularly worthwhile is the experience of eating them outside in a time-wrap restaurant. The inn is a roadside eatery from the time when getting to Shatin required a long drive across the mountains and into the countryside.
10. Cantonese Preserved Sausage:
Cantonese Laap Cheung, in contrast to some Chinese sausages, is a flawlessly balanced combination of slightly-sweet pig fat and flesh. They have a sharp edge from the rose water and rice wine, and the salty soy sauce balances the sweetness.
Top 6 Chinese Restaurants In Hong Kong:
There are the top 6 Hong Kong Chinese food restaurants:
1. Ding Dim:
Hollywood Road is in a great location. The most delicious dim sum. not too busy. beautifully decorated Totally recommended. There are both vegetarian and non-vegetarian dim sum sets available in this nice central location. However, the restaurant would benefit from more air conditioning and greater lighting. People are deterred from attending dinner because of the dull setting.
2. Man Wah:
A Michelin-starred restaurant that has been dubbed Hong Kong's most beautiful dining room Since 1968, Man Wah has delighted visitors with its outstanding Cantonese cuisine. Both the atmosphere and client service are excellent. Amazing food was served. It's a fantastic place to spend the evening. Please don't forget the dessert if you go there. Chief is so inventive that he hides abalone within to transform the straightforward dessert. Family gatherings take place there.
3. Tin Lung Heen:
Stunning scenery, mouth watering food, and flawless service made this establishment deserving of its two Michelin stars. The Barbecued Iberian Pork, Fried Shrimp Toast, Baked Tiger Prawn, and Glutinous Rice were notable dishes for the evening. If you're coming for supper, we suggest the Michelin Degustation Menu so you may enjoy a selection of favorites, like wok-fried wagyu beef with bell peppers, steamed garoupa fillet with Jin Hua ham, and sautéed lobster with homemade bean curd.
4. Yan Toh Heen:
Award-winning restaurant Yan Toh Heen at InterContinental Hong Kong offers Cantonese food that has been spruced up with artisanal products and foreign spices. This fine-dining establishment is also a well-known landmark in Hong Kong, in large part because of the creative leadership of head chef Lau Yiu Fai, who has worked in the kitchen since 1984.
5. Sing Yin Cantonese Dining:
This was an upscale Cantonese eatery that, like the rest of the W Hotel in Hong Kong, prides itself on providing warm customer service. Sincerely, this is what differentiates. Even if a restaurant serves excellent food, snobby service will ruin the experience. The Cantonese food served at the restaurant is of the highest caliber.
6. Above & Beyond:
Excellent hospitality is provided by Timothy and Kaley. Nice harbor view from here. The smoked pigeon in particular was delicious, and the drinks were presented beautifully. There is great food there, particularly the delicious beef rice roll, the crispy jellyfish, and the meal with the unmistakable lemon tart.
Final Thought:
So, this is all about Hong Kong Chinese food and restaurants. When planning your next vacation to Hong Kong, remember to include these eateries in your guidebook. On your next vacation, you can sample some of the best Hong Kong cuisines because we've included some of the best restaurants and dishes here.